I don't think mcgarrybowen has the right stuff to fix this
Steve's breakdown: All the feel good Olympic stuff mcgarrybowen did for United was not only tone-deaf to the fact that the airline is killing dogs and dragging people on their planes, it looked like every other B.S. campaign a major sponsor does during the games.
Just take a look at the chart below.
Our advise to any agency with airline experience is too put something together and invite the client to watch how it's done.
CHICAGO, IL: United Airlines is taking a long time to regain its perception mojo with prospective travelers, yet it is seemingly benefiting from a consolidated airline industry where flight options on many routes can be limited, according to YouGov BrandIndex.
UNITED FOLLOWS CLASSIC CRISIS PATTERN
Last April, when a video of a United passenger being forcefully dragged off of a plane went viral, the airline's perception went into freefall for one month. United would then follow a classic pattern that YouGov BrandIndex sees with most serious crises: its perception slowly rose back up for several months, then hit a ceiling that was well short of recovery.
United's perception took another hit this past March when a flight attendant forced a family to put its dog in an overhead bin and it died. United's perception fell through mid-April and is now working its way back up again, still well short of the domestic airline industry average.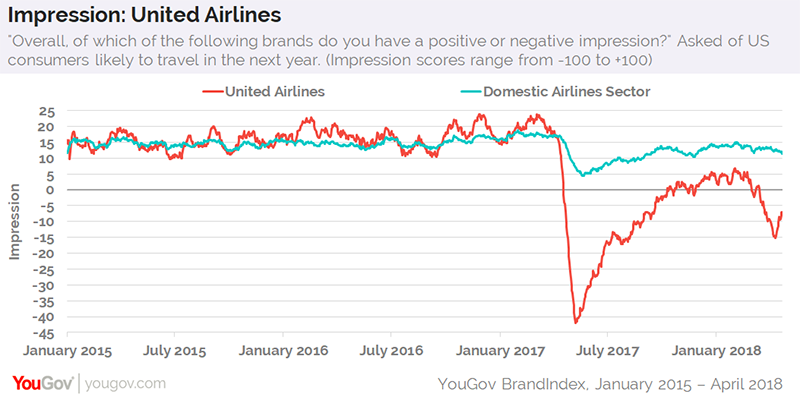 Breaking down the timeline, last April 10th, 35% of travelers would consider booking their next flight with United, a percentage that dropped to a bottom of 18% one month later. That was six percentage points below the domestic airline industry average.
By the third week of June 2017, United was already returning, passing the 24% industry average, and eventually regaining its earlier 36% mark on February 2, 2018. After a computer outage delayed 600 flights less than a week later, followed by the dog incident, the score dropped down to 25%.
Currently, 30% of travelers would consider flying United the next time they book a flight, six percentage points above the domestic airline sector average.
For this research, YouGov BrandIndex used its Impression score, which asks respondents: "Which of the following airlines do you have a positive or negative impression?" YouGov BrandIndex defined "travelers" as consumers 18 and over who said they were somewhat likely, likely, or very likely to travel in the next year.